Humans of GLISS Blog
Sherri - a strong willed woman who has overcome an incredible battle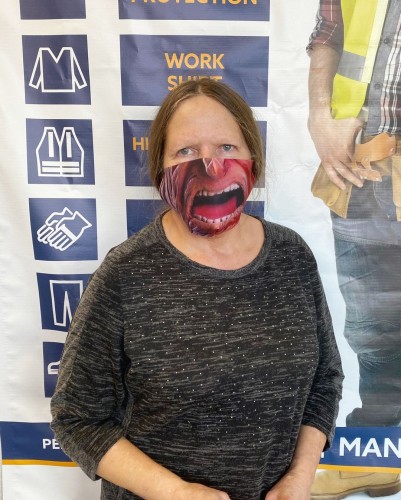 Today we have the story of Sherri, a strong willed woman who has overcome an incredible battle. (And has an AWESOME facemask!)
"I have been through a lot in my life. The hardest battle I have fought was definitely sobriety. Back when I was not sober, I was fighting more than just an addiction. At one point, my using ended me up in the hospital. The diagnosis was related to drug use. As must as I did not want anyone in the hospital to know that I was using, they did blood work and saw the results pop right up. There was no hiding from it. I remember the nurse coming in and saying something that upset me and radically changed me at the same time. She came in and said "Sherri, aren't you a little old to be using drugs?" In the moment, I remember being frustrated, and caught off guard, but the days drag on in the hospital and I had a lot of time to reflect on what that nurse had said to me.
I realized that day that, age aside, I do not need those drugs anymore - she was right. I checked into rehab and immediately began my recovery process. Through my recovery journey, I lost more than I ever thought I would. I lost the binding feeling of addiction, I lost my need to use drugs as a crutch or a source of entertainment, but I also lost my previous friends. Getting out of rehab was an experience. I have had to change my life around so I dint slip back into my old life. The time I used to spend using with "friends", I now spend at the gym or working. It's almost like relearning how to go about your day to day life, but it is worth it! I have even quit smoking cigarettes!
If anyone were in my positions and needing a little hope or reassurance, I would tell you this: On the other side of your addiction is the feeling of self-worth. Through responsibility and routine, I have gained a completely new outlook. I look forward to every day, and you can too! You might have to lose friends, lose a crutch and relearn how to do life, but it's so worth it."
We are SO unbelievably proud of you Sherri. Your willingness to push past limiting beliefs and find a healthy and happy lifestyle for yourself is truly inspiring!